Welcome to 2012. If you have not already renewed your membership, please take the time to do so now.
As mentioned in this month's newsletter, members who are currently between positions or retired should renew using the half-price unemployed discount. If you renewed at the full rate but are unemployed, call the support center for a membership fee reduction.
We look forward to seeing at our events this year.

IEEE Buenaventura Section has won the Region 6 South Area 2011 Outstanding Section Award.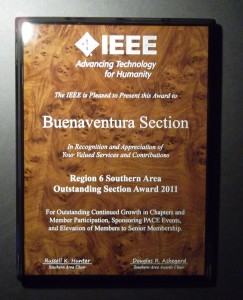 Thanks to the good work and dedication of our BV Officers, Volunteers, and Members for making BV Section a terrific place to meet, network, and get involved with new technologies and technology communities.
Last year, BV Section elevate 15 IEEE members to Senior Grade, performed outreach to our community through schools and Science Fair, and held a major regional technology conference, the Energy Efficiency Symposium.
We look forward to many terrific events in 2012.
Members and volunteers make this possible! To get in on the latest upcoming events, contact Section Officers Bridge Carney, Zak Cohen, or Karl Geiger, or any of the Society Chairs: Momin Quddus (AES), Victor Lin (Communications), Craig Reinhart (Computer), Abigail Corrin (EMBS), Jerry Knotts (Life Member Affinity Group), Tom Campbell (Microwave), Bridge Carney (Power and Energy), and Bob Rumer (Robotics and Industrial Automation).
The IEEE BV-COMSOC and SFV-CCC chapters are jointly sponsoring a Distinquished Lecturer Tour (DLT) talk.   The meeting will feature excellent food, an distinquished speaker, and great networking opportunity with your peers!  Start off the New Year 2012 on a high note.  Come join us!
Date and Time: Tuesday, Jan 17th, 2012
Location : Zen Buffet, 21610 Victory Blvd Woodland Hills, CA 91367
http://maps.yahoo.com/#tt=&q=21610+Victory+Blvd%2C+Woodland+Hills%2C+CA++91367-2401&conf=1&start=1&lat=34.18763&lon=-118.601219&zoom=16&mvt=m&trf=0
Agenda: 6:00 p.m. Reception, Dinner, & Networking
7:00 p.m.  Meeting & Presentation
Cost: $15 (non-members), $10 (members) [Pre-paid preferred. Also payable at the event]
RSVP Requested:  https://meetings.vtools.ieee.org/meeting_view/list_meeting/9843                                                                                      
Speaker: Prof. Arun K. Somani
Overview:  We describe a theoretical and experimental program to develop the inspection and monitoring functions using various sensors along with development and usage of needed visual sensor and MAV technology for persistent intelligence, reconnaissance, maintenance and surveillance for obscured or logistically challenging assets in non-urban environments such as US Power Grid. The system is self-monitoring. This sophisticated mechanism requires a real-time operation to sustain the quality-of-service. We discuss issues in design and information propagation in such sensor clustered topology, optimization for power-aware networking, and link and node capacity assignment to achieve the desired goals.
Bio: Arun K. Somani is currently Anson Marston Distinguished Professor of Electrical and Computer Engineering at Iowa State University, Ames, IA. He earned his MSEE and PhD degrees in electrical engineering from the McGill University, Montreal, Canada, in 1983 and 1985, respectively. He has worked as Scientific Officer for Govt. of India, New Delhi from 1974 to 1982 and as a faculty member at the University of Washington, Seattle, WA from 1985 to 1997.  Professor Somani's research interests are in the area of computer system design and architecture, dependable computing and networking, WDM-based optical networking, and reconfigurable and parallel computer systems and use of information technology for infrastructure applications. He has ~300 technical papers, several book chapters, one book, and has supervised more than 60 MS and more than 25 PhD students. He has served on several program committees in various capacities, IEEE distinguished visitor and IEEE distinguished tutorial speaker. He has delivered several key note speeches, tutorials and distinguished and invited talks all over the world. In 1999, he was elected a Fellow of IEEE for his contributions to "theory and applications of computer networks." He has been awarded a Distinguished Scientist member grade of ACM in 2006.