Here is a chance to recognize a southern California engineer for his or her outstanding contributions to their profession and/or to their  communities.
A company can be recognized as well for creating an atmosphere that facilitates IEEE volunteerism.
Those elected are nominated for the Western United States Awards as well.
Just complete the IEEE-Region6-Awards-and-Recognition-Form-2012 as best you can and email to awards@ieee-bv.org with your contact information and we will help you from there.
Nominations close April 30, 2012.
Congratulations to the IEEE BV Section's Special Prize Winners at Ventura County's 2012 Science Fair.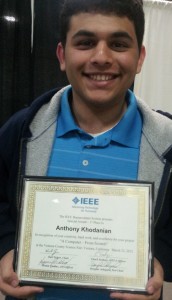 First Place Special Prize and a $400 Fry's Electronics gift card goes to Anthony Khodanian for his entry, "A Computer — from Scratch!" Anthony created a 4-bit arithmetic logic unit from discrete logic components (AND, OR, NAND, XOR gates), verifying his design on a simulator.
Anthony is a Junior at Foothill Technology High School. His project placed 3rd overall in the electrical engineering at Ventura County Science Fair.
Special prizes also awarded:
Lindsey Hulsebus, "Forget Me Not — an iPad Application for Alzheimer's Patients and Caregivers". Lindsey's project is a mnemonic aid that helps patients with their daily routines. Lindsey's prize includes a $300 Fry's Electronics Gift Card.
Lindsey is a junior at Villanova High School.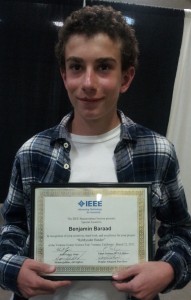 Benjamin Baraad, "ReMynder Binder". The binder is an online application designed to integrate classroom assignment calendars with the school's teacher entries. Benjamin wrote the software in PHP and MySQL. Benjamin is in 8th grade at Lindero Canyon School. His prize includes a $200 Fry's Electronics Gift Card.
He placed 2nd in the Junior category electrical engineering division at Ventura County Science Fair and his project will go on to compete at the California State Science Fair.
Derek Busch, "The Speed of Light: Explore Solar Energy with a Supercapacitor Car Motor". Derek investigated the charge strength and duration of solar-charged capacitors to investigate whether they could substitute for chemical cell batteries.
Derek attends 8th grade at Phoenix Ranch Middle School and received a $100 gift card to Fry's Electronics. Derek was unable to attend the awards ceremony, but we hope to meet him next time.
Many thanks to the terrific work at the Ventura County Office of Education. The competition was organized by John Tarkany and the awards master of ceremonies was Dr. Roger Rice. VC district schools and VCOE work very hard to encourage science, technology, engineering, and mathematics and these gentlemen, their staffs, and our science and math teachers especially need your gratitude and support.
IEEE Buenaventura Section also looks forward to participating in Science Fair in 2013. See you next year!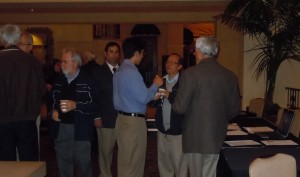 The Leap Year Social Event was a terrific time. About 35 members and guest turned out Wednesday evening 29 February at the Westlake Hyatt. We took plenty of pictures of people who had their backs to the camera.
It was great to see many long-time and new members of the IEEE. Several members are also available to become Senior IEEE members, so we'll be putting together another elevation event.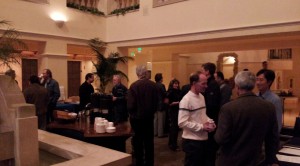 Attendees were from diverse IEEE fields in microwaves, computer software, electron devices, telecommunications, power and energy, sensors and MEMs, and several others.
The Communications Society, Computer Society, and Power and Energy Society chapters were on hand to talk about what's available and what's upcoming.
Companies were present as well. HRL Laboratories is hiring, for example, as is SpaceX and several other local firms.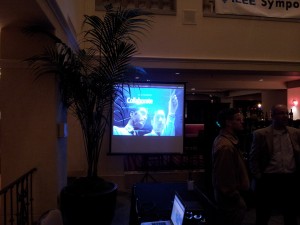 Several conversations were actively solving business and technical problems. Folks from the Motion Pictures Academy of Arts and Sciences discussed light and camera problems with engineers working in aviation photonics. Microwave antenna experts where talking about WRAN and MiFi deployments locally.
See you at the next mixer!