AROUND THE WORLD FROM 60 DAYS TO 60 MINUTES OUR SUMMER MIXER
AROUND THE WORLD FROM 60 DAYS TO 60 MINUTES OUR SUMMER MIXER
JULY 22, 6 pm – 9 pm
Huddle Entrepreneurship Center
31416 Agoura Road, Westlake Village, CA  91361
BRING ENGINEERING FRIENDS AND COLLEAGUES
No fee for entrance, parking, food or drinks.
Warm appetizers, wine, and soda.
REGISTER http://ieee-bv-summer-mixer.eventbrite.com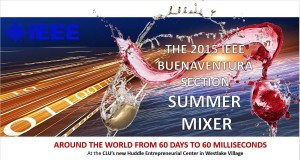 Summer is here, time to chill and relax together in the company of fellow engineers.
If you enjoyed our last IEEE mixer at the CLU's new Huddle Entrepreneurial Center in Westlake Village, you know the fun and easy going atmosphere of this mixer.
In the setting of the CLU's new Huddle Entrepreneurial Center, a little heaven for local startups, you get a chance to be in a place with an entrepreneurship spirit and in a group of likeminded technical professionals.
Zak Cohen, our EMCEE will explore with you how long it takes to go around the world whether you are a human or an electron or a piece of data.
Be ready for another humorous and thought provoking presentations.
This will be a great place for young engineering professionals to mix with seasoned IEEE engineers. Dress code is relaxed and casual.
We believe in amplifying the impact of our events. We will collect donated items that can be used to elevate the technical literacy and strategic thinking in young children (items such as books, Rubik cubes, number books, abacus, etc.). The items will be donated to the LoVE Orphanage in South Africa.
Your RSVP will help us ensure enough food and drink for all!  http://ieee-bv-summer-mixer.eventbrite.com
---