7pm Wed. Feb 20 2013, Dr. Sembiam Rengarajan, IEEE Fellow, presents "Waveguide-fed Slot Arrays: Design, Analysis, and Applications" at Ciao Wireless, 4000 Via Pescador, Camarillo, CA.
Abstract
Waveguide-fed slot array technology has matured, primarily because of advances in electromagnetic modeling in the analysis, design, and optimization of such antennas. We can now design and build such arrays to meet the demanding specifications of many radar, remote sensing, and communication applications, without any hardware iteration.
In this talk we will review Elliott's design procedure and analysis employing the method-of-moments solution to the pertinent integral equations of the entire planar slot array. Examples from recent applications of slot arrays in practical radar and remote sensing systems will be presented. Recent advances in design techniques, including global optimization using full wave moment method analysis techniques for improving return loss and pattern performance over a given bandwidth will be presented.
About the Speaker
Dr. Rengarajan is a Fellow of IEEE and of the Electromagnetics Academ, has served as an Assoc Editor of the IEEE Transactions on Antennas and Propagation (APS) (2000-03), and as the Chair of the Education Committee of IEEE APS. He received the Preeminent Scholarly Publication Award from CSUN in '05, CSUN Research Fellow Award in '10, a Distinguished Engineering Educator of the Year Award from the Engineers' Council of California in '95, and 20 awards from NASA for his innovative research and technical contributions. He is the Chair of USNC-URSI Commission B (2012-14) and is a Distinguished Lecturer for IEEE APS (2011-13).
Full details and directions
IEEE MTTS Buenaventura Feb 20 2013
Piscataway, New Jersey, USA, 2 January 2013: Dean Mensa, Ph.D., of Camarillo, CA, USA has been named an IEEE Fellow. He is being recognized for his contributions to radar and imaging systems that have defended the United States and kept American service men and women safe for over a third of a century.
During his 37-year career at the Naval Air Warfare Center, Point Mugu, California, Dr. Mensa focused on the collection and application of radar signatures to establish the performance of airborne radar and missile systems, and directed the technical operations of the Radar Reflectivity Laboratory in conducting tests and analyses of radar signatures. He received the Ventura County Chapter Sigma-Xi award for outstanding research in 1982, the Navy Meritorious Civilian Service Award in 1994, and the Antenna Measurement Techniques Association Distinguished Achievement Award in 1995.
Dr. Mensa has authored over 200 technical reports and 25 technical papers, conducted or participated in a number of short courses at regional universities, and holds six patents. He is known for his application of high-resolution inverse Synthetic Aperture Radar (SAR) imaging methods to Radar Cross Section (RCS) diagnostics and has written two texts on the subject.  Originally from Torino, Italy, Dr. Mensa holds BS and MS degrees in Electrical Engineering from UCLA and a PhD in Electrical Engineering from UC Santa Barbara.
About IEEE Fellows
The IEEE Grade of Fellow is conferred by the IEEE Board of Directors upon a person with an outstanding record of accomplishments in any of the IEEE fields of interest. The total number selected in any one year cannot exceed one-tenth of one- percent of the total voting membership. IEEE Fellow is the highest grade of membership and is recognized by the technical community as a prestigious honor and an important career achievement. 298 individuals have been elevated to IEEE Fellow for 2013.
About the IEEE
The IEEE is the world's leading professional organization for advancing technology for humanity. Through its 400,000 members in 160 countries, the IEEE is a leading authority on a wide variety of areas ranging from aerospace systems, computers and telecommunications to biomedical engineering, electric power and consumer electronics.
Dedicated to the advancement of technology, the IEEE publishes 30 percent of the world's literature in the electrical and electronics engineering and computer science fields, and has developed more than 900 active industry standards. The organization also sponsors or co-sponsors nearly 400 international technical conferences each year. If you would like to learn more about IEEE or the IEEE Fellow Program, please visit www.ieee.org.
Dean Mensa PhD Made 2013 IEEE Fellow – Press Release
The IEEE MGA Awards and Recognition Committee encourages you to recognize the efforts of outstanding IEEE volunteers by nominating individuals for one of the prestigious IEEE Member and Geographic Activities (MGA) Awards.  Each award has a unique mission and criteria and offers the opportunity to honor distinguished colleagues, inspiring teachers, and corporate leaders. If you know someone who has made substantial regional contributions, please consider nominating them for one of the following awards:
Please visit the MGA Award Nomination web page to review the nominator guidelines and eligibility requirements, reference the step-by-step submittal instructions, and link to the portal for nominations.
The deadline for nominations is 15 October 2012 (for completed nomination form and two letters of endorsement).
Please e-mail MGA Awards with any questions about the MGA Awards and Recognition Program.
Gail K. Sheedy
MGA Board Administrator
IEEE Member and Geographic Activities Department
http://www.ieee.org/mga
A big "thank you" to all the Senior and Life Members who interviewed canidates for Senior Membership at Elevation Clinic held Saturday morning, 14 July, at the Grant Brimhall Library in Thousand Oaks:
Doug Askegard (Life Senior)
Zak Cohen (Senior)
David Collins (Life Senior)
Karl Geiger (Senior)
John Higgins (Life Fellow)
Don Hilliard (Senior)
Wesley Holser (Senior)
Jerry Knotts (Life Senior)
Lester Kozolwski (Senior)
Aleksander Mladenovic (Senior)
Mehran Mokhtari (Senior)
David Standley (Senior)
Habib Taouk (Senior)
David Vivieros (Senior)
Richard Walton (Life Senior)
John Wright (Life Senior)
Many thanks to Bridge Carney, Section Vice Chair, Doug Askegard, Section Historian, and especially Christian Ziegler, Membership Development Chair, for organizing the event.
Good luck to all candidates for Senior Member elevation.
UPDATE 1 AUG
Thanks to the hard work by Senior members and applicants, we met the 23 July cut-off date for the Advancement Review Panel. As of 30 July, 20 applicants have advanced to Senior level. Congratulations all.
– Karl Geiger, Section Chair

Here is a chance to recognize a southern California engineer for his or her outstanding contributions to their profession and/or to their  communities.
A company can be recognized as well for creating an atmosphere that facilitates IEEE volunteerism.
Those elected are nominated for the Western United States Awards as well.
Just complete the IEEE-Region6-Awards-and-Recognition-Form-2012 as best you can and email to awards@ieee-bv.org with your contact information and we will help you from there.
Nominations close April 30, 2012.
Congratulations to the IEEE BV Section's Special Prize Winners at Ventura County's 2012 Science Fair.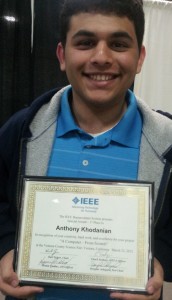 First Place Special Prize and a $400 Fry's Electronics gift card goes to Anthony Khodanian for his entry, "A Computer — from Scratch!" Anthony created a 4-bit arithmetic logic unit from discrete logic components (AND, OR, NAND, XOR gates), verifying his design on a simulator.
Anthony is a Junior at Foothill Technology High School. His project placed 3rd overall in the electrical engineering at Ventura County Science Fair.
Special prizes also awarded:
Lindsey Hulsebus, "Forget Me Not — an iPad Application for Alzheimer's Patients and Caregivers". Lindsey's project is a mnemonic aid that helps patients with their daily routines. Lindsey's prize includes a $300 Fry's Electronics Gift Card.
Lindsey is a junior at Villanova High School.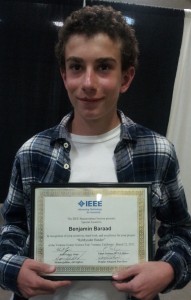 Benjamin Baraad, "ReMynder Binder". The binder is an online application designed to integrate classroom assignment calendars with the school's teacher entries. Benjamin wrote the software in PHP and MySQL. Benjamin is in 8th grade at Lindero Canyon School. His prize includes a $200 Fry's Electronics Gift Card.
He placed 2nd in the Junior category electrical engineering division at Ventura County Science Fair and his project will go on to compete at the California State Science Fair.
Derek Busch, "The Speed of Light: Explore Solar Energy with a Supercapacitor Car Motor". Derek investigated the charge strength and duration of solar-charged capacitors to investigate whether they could substitute for chemical cell batteries.
Derek attends 8th grade at Phoenix Ranch Middle School and received a $100 gift card to Fry's Electronics. Derek was unable to attend the awards ceremony, but we hope to meet him next time.
Many thanks to the terrific work at the Ventura County Office of Education. The competition was organized by John Tarkany and the awards master of ceremonies was Dr. Roger Rice. VC district schools and VCOE work very hard to encourage science, technology, engineering, and mathematics and these gentlemen, their staffs, and our science and math teachers especially need your gratitude and support.
IEEE Buenaventura Section also looks forward to participating in Science Fair in 2013. See you next year!
Ventura County Schools will hold its 58th Ventura County Science Fair 21-22 March 2012.  The fair has come a long way since a handful of students competed in our first county science fair in 1955. Nearly 1,000 students participate and the science fair continues to experience tremendous growth, both in participation and sponsorship.  The fair is looking for qualified engineers and scientists to judge projects.   Last year, Buenaventura Section sent eight judges.
This year and in addition to helping judge, IEEE Buenaventura Section is awarding student prizes. Register to judge and contact Momin Quddus to help select IEEE awards for the students and to participate in the awards ceremony.
IEEE Buenaventura Section Science Fair Awards Team

Momin Quddus, mominq7@yahoo.com
Doug Askegard
Karl Geiger
Charles Seabury

YOUR NAME HERE
When:
Judging, 8am-3pm, 21 March 2012
Awards, 6:30-8pm, 22 March 2012
Where:
Seaside Park, Ventura  (map)
Info:
IEEE Buenaventura Section has won the Region 6 South Area 2011 Outstanding Section Award.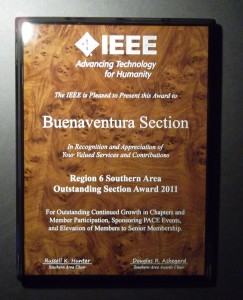 Thanks to the good work and dedication of our BV Officers, Volunteers, and Members for making BV Section a terrific place to meet, network, and get involved with new technologies and technology communities.
Last year, BV Section elevate 15 IEEE members to Senior Grade, performed outreach to our community through schools and Science Fair, and held a major regional technology conference, the Energy Efficiency Symposium.
We look forward to many terrific events in 2012.
Members and volunteers make this possible! To get in on the latest upcoming events, contact Section Officers Bridge Carney, Zak Cohen, or Karl Geiger, or any of the Society Chairs: Momin Quddus (AES), Victor Lin (Communications), Craig Reinhart (Computer), Abigail Corrin (EMBS), Jerry Knotts (Life Member Affinity Group), Tom Campbell (Microwave), Bridge Carney (Power and Energy), and Bob Rumer (Robotics and Industrial Automation).
Help recognize the efforts of outstanding volunteers by nominating individuals for one of the prestigious IEEE Member and Geographic Activities (MGA) Awards. Each award has a unique mission and criteria and offers the opportunity to honor distinguished colleagues, inspiring teachers, and corporate leaders.
If you know someone who has made substantial regional contributions through innovative projects, exemplary leadership, service, or by fulfilling the goals as related to transnational activities, consider nominating them for one of the following awards:
Earlier this year, the MGA Awards and Recognition Committee and the IEEE Region Awards Chairs worked to pilot the MGA Outstanding Section Award submission process through an online portal.  Due to the success of this pilot, the portal will also be used for the submission of the above MGA awards.  Nominators can submit nominations, endorsers can upload endorsement letters, and reviewers can review and rank nominations, all within the online system.
Please visit the MGA Award Nomination web page to review the nominator guidelines and eligibility requirements, reference the step-by-step submittal instructions, and link to the portal for nominations.
The deadline for nominations is 15 October 2011.

Please note: As this is still a pilot program, all feedback about the new online portal is welcome, so that we may continually work to improve the IEEE MGA Awards process.  Please email questions and/or feedback to MGA Awards.
MGA also presents Friend of IEEE Member and Geographic Activities Awards, which specifically recognize support provided to IEEE and its members, in support of its goals, by firms, divisions of firms, or individuals.  Nominators can submit Individuals or Organizations for Friend Awards, and awards can be earned at the Supporting or Sustaining level.  Please complete the Online Award Nomination Form.  There is no deadline for these awards, which can be distributed throughout the year.
Please e-mail MGA Awards with any questions about the MGA Awards and Recognition Program.

Congratulations to all Region 6 Southern Area award winners:
Outstanding Engineer: Adrian Popa, Buenaventura Section

Adrian made pioneering contributions to and visionary leadership in the development and commercialization of millimeter wave, photonic and quantum systems for aerospace, automotive and U.S. Government applications. He is a dedicated member of the community who shares his knowledge with IEEE members, and university and pre-college students to inspire interest in technology.
Full Description

Outstanding Leadership: A. W. Sutton, Foothill Section
Corporate Service to the Engineering Community: Ciao Wireless, Inc., Camarillo (Buenaventura Section)

Ciao Wireless has supported the Buenaventura Section's MTT-S Chapter for eight years. It promotes IEEE membership and encourages employees to grow in their careers through the IEEE. Additionally, the company is deeply involved with science, technology, engineering, and mathematics (STEM) programs in the schools and county science fair competition. Ciao wireless is a regular participant in International Microwave Symposium organized by IEEE Microwave Theory and Techniques Society.
Full Description

Outstanding Section: Buenaventura Section

BV Section has 860 current, active members, comprising about 1 in 1000 residents of the County of Ventura (pop. ~825,000). The Buenaventura Section held over 40 regular technical and professional meetings among its active society chapters in Aerospace, Communications, Computer, Engineering in Medicine and Biology, and Microwave chapters. It has begun to engage the community with its Robotics chapter and started a Power and Energy Society Chapter in 2011. All of this is due to an effective and tireless cadre of officers and volunteers, and great participation by IEEE members throughout the Section.
Full Description

Outstanding Student Branch: California Baptist University Riverside (Foothill Section)
All winners have been entered into consideration for overall Region 6 awards. Overall R6 awards will be announced towards the end of July.
Many thanks to Doug Askegard, the R6 Southern Area Awards Chair for putting together nominations and submitting them to the committee, and thanks also to Russell Hunter, Southern Area Chair.