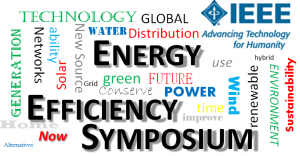 Registration for the 2012 EES at
http://2012-ieee-bv-ees.eventbrite.com/
Full conference site with complete information:
Please also see the new article in the Ventura County Star, Tuesday 2 October 2012:
Energy Engineers Meet this Week
Saturday, 22 September 2012, join the Los Angeles Consultants Network and Orange County Consultants Network as Kip Haggerty presents "Being and Engineering Consultant: What does it take?"
When:
10am-1pm, Sat. 22 September 2012
Where:
Engineering and Computer Science Building, Rm 221, CSU Fullerton
Cost:
Lunch is free with reservation.
Contact:
Bob Gauger, r.gauger@ieee.org for more info or to RSVP
Flyer with Detail and Directions:
LACCN/OCCN 2012-09 Announcement
What can the IEEE-USA do for you? Dr. Gary L. Blank, IEEE-USA Vice-President, Career and Member Services, will describe new tools, new services, and new programs, and updates on older ones, at this special meeting. These are all designed to advance the careers, practices, and networking of consultants, entrepreneurs, those who are employed, and those who are unemployed.
During his talk, Dr. Blank will explain how the Consultants Networks function, and how they interface and work with other IEEE organizations including the Sections, PACE, Chapters and Societies, WIE Women in Engineering, GOLD, and Life Members. He will describe the powerful IEEE-USA Consultants Database website and how it helps consultants find clients. He will also talk about the newly-formed IEEE-USA Entrepreneurs Networks and how effective they are in helping members to start new businesses, the new IEEE-USA Employment Networks that are rapidly growing and how they are helping our unemployed members to find jobs, and some of the new career advancement tools and services.
About the Speaker
Dr. Blank earned his Ph.D. in Electrical Engineering at the University of Wisconsin in Madison. He has been a full-time technical consultant for many years having provided consulting services for more than 40 major corporations and government agencies. He is the founder of the IEEE Chicago/Rockford Consultants Network which has over 200 members, and is the past chair of the AICN (Alliance of IEEE Consultants Networks). He has been a full-time professor of Electrical and Computer Engineering at Illinois Institute of Technology, Northern Illinois University, and Marquette University. He also taught at UCLA, and the University of Florida. He has worked with and consulted with many companies in Southern California. He is currently consulting with the U.S. Department of Energy in the areas of Smart Grid, Electric Vehicles, and Renewable Energy, and with the United Technologies Corporation (Hamilton Sundstrand) in the areas of Control Systems and Power Electronics.
His current IEEE-USA VP responsibilities include over 40 IEEE Consultants Networks in the USA, many of which he has founded for their sponsoring Sections. He also provides a 6-hour workshop/training for the members of the Networks on how to start and how to rapidly expand a successful consulting practice. In addition to the AICN (Alliance of IEEE Consultants Networks) Dr. Blank, as IEEE-USA Vice President, is also responsible for the start-up and management of the IEEE-USA Employment Networks, the IEEE-USA Entrepreneur Networks, the IEEE-USA K-12 STEM Literacy Activities, and the IEEE-USA Professional Engineering Licensure and Registration programs. He is a candidate for IEEE-USA President-Elect 2013, nominated and endorsed by the IEEE-USA Board of Directors.
Date:
Wednesday, August 8th, 2012
Time:
6:30 PM  Networking.and food.
         7:00 – 9:30  PM Presentation and Q&A.
Location:
Diamond Bar community Center, 1600 Grand Avenue, Diamond Bar,CA
The Community Center is located near the  intersection of the Freeways 57 and 60, with the Freeways 10 and 210 fairly nearby.  This was selected in order to allow many IEEE members from the LA Metropolitan Area, as  well as the Inland Empire and Orange County to attend.  Free parking on site, but car pooling is recommended.  Use your travel time to network.
Contact:
Bob Gauger, r.gauger@ieee.org
Fellow Mavericks and Friends of our Entrepreneur Network:
You are invited to attend the next Maverick Angels Open Evening for Entrepreneurs at California Lutheran University.  This free event will be held in the Lundring Events Center.
The Open Evening is an event geared towards familiarizing entrepreneurs with:
Angel and Venture Capital investing strategies
Maverick Angels unique investment process
Entrepreneur resource networks
Navigating the Entrepreneurial Ecosystem
At the event there will be an opportunity for select attendees to give their Elevator Pitch, for a chance to win FREE attendance at an upcoming Maverick Angels Investment Accelerator ($495 value).
For more information on the Investment Accelerator please click here
Maverick Angels Open Evening for Entrepreneurs 
Tuesday, February 21, 2012
6:00PM – 8:00PM
California Lutheran University
Lundring Events Center (Building 103a on map, Click here for CLU Campus Map  )
60 West Olsen Rd.
Thousand Oaks, CA 91360
Special Thanks to our Venue Sponsor: