The IEEE R6 SWA Spring Meeting scheduled for 11-12 May 2013 in San Diego CA
at UCSD.
Students: in conjunction with the meeting we will hold the area paper
contest, and MicroMouse competition. The MicroMouse competition is hosted by
UCSD student branch with their California MicroMouse setting. Please contact
Daniel Shipps (danshipps@gmail.com) and Xun Luo (xun.luo@ieee.org) to sign
up.
Please plan your travels to arrive San Diego
around 4:00 – 5:00 pm on Friday, 10 May if possible.
A dinner is planned for Friday evening at 7:00pm.
SWA will cover the hotel cost directly. Please DO NOT make your own hotel
reservations. If you have done so, please cancel accordingly. The arranged
hotel for the meeting is:
Sheraton La Jolla Hotel
3299 Holiday Court, La Jolla, California 92037
Phone: (858) 453-5500
Please read the attached meeting agenda file carefully.
Important contacts and deadlines:
+ SWA executive items: Keith Moore (keith.moore@ieee.org)
+ Logistics and student related items: Dr. Xun Luo (xun.luo@ieee.org)
+ SWA Micromouse/CAMM (joint): Daniel Shipps (danshipps@gmail.com), copying
Dr. Xun Luo (xun.luo@ieee.org).
+ Student paper competition: Dr. Charles Tu (ctu@ucsd.edu), copying Dr. Xun
Luo (xun.luo@ieee.org).
We look forward to meeting you in San Diego!
Keith Moore
2013_R6_SWA_Spring_Meeting_Agenda.pdf

IEEE_Region_6_SWA_Student_Paper_Guidelines.pdf
Ventura, April 10,2013 - Ventura County Science Fair was held in the Ventura County Fair Grounds with the organization of Ventura County Office of Education. VCOE celebrated the 59th anniversary of this premier annual event. Participation in VCSF have been growing steadily since its inception in 1957 when eight budding scientists entered their projects. This year 900 students participated in this event.
Students from numerous Middle and High Schools of Ventura County displayed their Science Projects in fourteen different categories. Top three projects from each category were selected by volunteer judges from the local industries and academia. Top projects on each category had the option of entering the State Science Fair held on April 15th.
In addition to awards given by VCOE, special Awards are given by professional organization and industries to exceptional projects. IEEE Buenaventura Section participated in this special awards category. All projects that generate or use electricity or computers for the implementation of the project were eligible for IEEE special awards.
IEEE Judges selected four exceptional projects for this special Awards. Two exceptional projects were tied for first place and two for the second place.
Niel Ghandi and Quentin Wetherholt were selected for 1st place for their project Next Generation Multi Touch Technology along with Allan Tran and Ethan Zheng for their project hazardBot. Each 1st place winner received a $100 prize from IEEE Buenaventura Section.
Mathew Yerich was selected for 2nd place for his project Magnetic Air Conditioning along with Erik Loza for his project Let There be Light. Each 2nd place winner received a $50 prize from IEEE Buenaventura Section.
IEEE Buenaventura Section thanks Doug Askegard (IEEE), Paul Witman (IEEE, CLU), Karl Geiger (IEEE), Chuck Seabury (IEEE), Christian Ziegler (IEEE) & Momin Quddus (IEEE) for judging in the special awards category.  The Section also thanks John Tarkany, Vicki Brown, the staff of VCOE's Office for Special Programs, and VCOE Superintendent Stanley Mantooth as well as recognizes the hard work and fun the students and teachers had working on projects.
Ventura County Science Fair 2013 will held on 4/10/2013 at Ventura County Fair Grounds. Students from 6-12 grade from Ventura County Schools can enter in the VC Science Fair. Awards are given by Ventura County Board of Education for best project on each category. Winners are then eligible to participate in State Competitions. In addition, special awards are sponsored by professional organizations and local corporations.
For more information visit : http://www.vcoe.org/sc/ScienceFair.aspx
You may also email : mominq7@yahoo.com if you have specific questions.
Special Awards:  IEEE BV Section is going to offer Special Awards to the participants of VC Science Fair. We will be needing volunteer judges to select the qualified participants. Please contact Momin Quddus  if you would like to participate in judging projects for IEEE special awards.
VCSF Judges: Science Fair needs volunteers especially in engineering, mathematics, physics, and technology fields to judge the projects.  IEEE BVmembers will be volunteering as judges for the event.  Please visit VCSF website to register as a judge and contact Momin to coordinate with other IEEE members.
To volunteer to judge science fair, register online (Google Form).
 STEM Booth: There will be a STEM ( Science Technology Engineering and Mathematics ) program during the Science Fair. IEEE BV Section will have a booth in this program. We will be needing members to man the booth during the day. Please contact Momin if you are interested in participating in this activity.
Awards Ceremony: IEEE BV will be presenting its special awards at the VCSF Awards Ceremony Thursday 11 April.  Please contact Momin if you plan to attend the Awards Ceremony.
Momin Quddus
AES Chair / VCSF Coordinator
Congratulations to the IEEE BV Section's Special Prize Winners at Ventura County's 2012 Science Fair.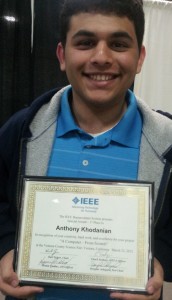 First Place Special Prize and a $400 Fry's Electronics gift card goes to Anthony Khodanian for his entry, "A Computer — from Scratch!" Anthony created a 4-bit arithmetic logic unit from discrete logic components (AND, OR, NAND, XOR gates), verifying his design on a simulator.
Anthony is a Junior at Foothill Technology High School. His project placed 3rd overall in the electrical engineering at Ventura County Science Fair.
Special prizes also awarded:
Lindsey Hulsebus, "Forget Me Not — an iPad Application for Alzheimer's Patients and Caregivers". Lindsey's project is a mnemonic aid that helps patients with their daily routines. Lindsey's prize includes a $300 Fry's Electronics Gift Card.
Lindsey is a junior at Villanova High School.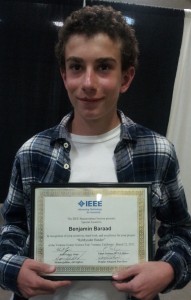 Benjamin Baraad, "ReMynder Binder". The binder is an online application designed to integrate classroom assignment calendars with the school's teacher entries. Benjamin wrote the software in PHP and MySQL. Benjamin is in 8th grade at Lindero Canyon School. His prize includes a $200 Fry's Electronics Gift Card.
He placed 2nd in the Junior category electrical engineering division at Ventura County Science Fair and his project will go on to compete at the California State Science Fair.
Derek Busch, "The Speed of Light: Explore Solar Energy with a Supercapacitor Car Motor". Derek investigated the charge strength and duration of solar-charged capacitors to investigate whether they could substitute for chemical cell batteries.
Derek attends 8th grade at Phoenix Ranch Middle School and received a $100 gift card to Fry's Electronics. Derek was unable to attend the awards ceremony, but we hope to meet him next time.
Many thanks to the terrific work at the Ventura County Office of Education. The competition was organized by John Tarkany and the awards master of ceremonies was Dr. Roger Rice. VC district schools and VCOE work very hard to encourage science, technology, engineering, and mathematics and these gentlemen, their staffs, and our science and math teachers especially need your gratitude and support.
IEEE Buenaventura Section also looks forward to participating in Science Fair in 2013. See you next year!
Ventura County Schools will hold its 58th Ventura County Science Fair 21-22 March 2012.  The fair has come a long way since a handful of students competed in our first county science fair in 1955. Nearly 1,000 students participate and the science fair continues to experience tremendous growth, both in participation and sponsorship.  The fair is looking for qualified engineers and scientists to judge projects.   Last year, Buenaventura Section sent eight judges.
This year and in addition to helping judge, IEEE Buenaventura Section is awarding student prizes. Register to judge and contact Momin Quddus to help select IEEE awards for the students and to participate in the awards ceremony.
IEEE Buenaventura Section Science Fair Awards Team

Momin Quddus, mominq7@yahoo.com
Doug Askegard
Karl Geiger
Charles Seabury

YOUR NAME HERE
When:
Judging, 8am-3pm, 21 March 2012
Awards, 6:30-8pm, 22 March 2012
Where:
Seaside Park, Ventura  (map)
Info:
The VEX robotics World Championships brings 500 middle school, high school and university teams from around the world to compete for the World Championship title.  These are the best teams of over 4,000 teams from 20 countries and 300 prior competitions.
The competition seeks qualified adult volunteers to assist at the upcoming competition in at the Anaheim Convention Center, Anaheim, California, 18-21 April 2012.
If you are interested, please contact Cheryl Rausch (cheryl_rausch@roboticseducation.org). More information is also available at http://robotevents.com/volunteer
– Kathleen Paulson, PE, IEEE