Section
The Buenaventura section of the IEEE was founded in 1963 and has been serving IEEE members for nearly 50 years.  The Section began with electron device and aerospace industries and has since grown to include robotics, power and energy, computer, microwave, and medicine/biology chapters.  These support engineers in the local defense, electronics, automation, biotech, and communications, and software industries.
BV section comprises the County of Ventura and is host to Cal State Channel Islands, California Lutheran University, and the "101 Tech Corridor".  Neighboring Sections are
Central Coast Section – covering Santa Barbara, San Luis Obispo and other counties, including UC Santa Barbara and Cal Poly San Luis Obispo
China Lake/Bakersfield Section – covering the high desert and the military and space tracking stations there
Coastal Los Angeles Section – covering the coast of LA county to the Orange County line and including UCLA, Cal State Long Beach
Foothill Section – covering the eastern San Gabriel Valley, Pomona Valley, and Riverside and San Bernadino Counties, including Cal Poly Pomona, UC Riverside
Metropolitan Los Angeles Section – Covering the central city, Burbank/Glendale/Pasadena, including CalTech, USC, Cal State Los Angeles, and JPL
San Fernando Valley Section – covering the SFV and Santa Clarita Valleys and northern LA County, including Cal State Northidge
Map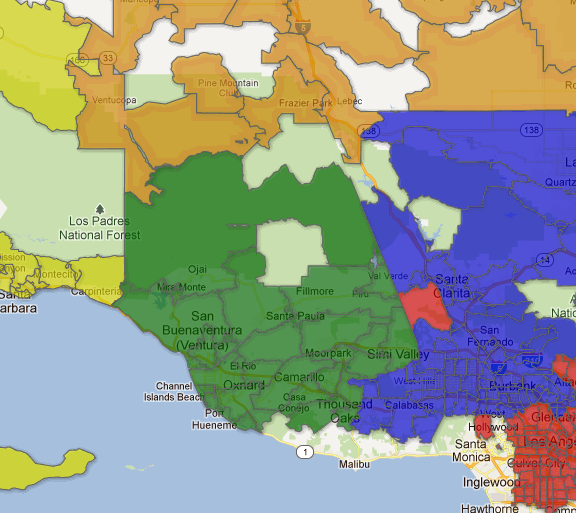 Map Data are hosted at Google Fusion Tables.  Go to the dataset, then select the "Visualize" tab and select the "Map" item to see the complete, zoomable map.
Major local employers include
Aerovironment
Amgen
Anthem Blue Cross
Bank of America / Countrywide
Baxter Healthcare
BMW Design
DTS Sound
Haas Automation
Harbor Freight Tools
Ixiacom
Naval Base Ventura County (CBs)
Point Magu NAS
Procter & Gamble
Semtech
Skyworks Networks
St. Judes Regional Medical Center
Technicolor Imaging
Teledyne Scientific Imaging
Teradyne
THQ Games
Vitesse Semiconductor
Many engineers commute to jobs in adjoining Los Angeles and Santa Barbara Counties as well.