Please join Aerospace, Life Members, and Microwave Societies joint presentation of Computational Modeling of Partially-Ionized Gases for the Assessment and Mitigation of Material Degradation in Electric Rocket Propulsion by Dr. Ioannis ("Yiangos") G. Mikellides, NASA Jet Propulsion Laboratory.
Abstract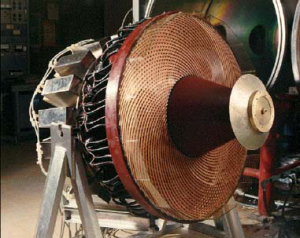 Electric propulsion (EP) embodies several plasma rocket technologies that can enable new science missions for NASA. Over the last two decades two (mN-class) EP systems have emerged as primary candidates for several proposed science missions, mainly due to their superior performance and proven record in space flight: the Ion and Hall thrusters. As NASA looks ahead to increasingly ambitious science goals however, missions become more demanding of the life of the propulsion system. Therefore, by contrast to the early years of development of these thrusters, when the emphasis was on propulsive performance, the focus today is shifting towards extending their service life.
Two major difficulties emerge as a result of the increasing demand for extended thruster operation. First, the degradation of these thrusters occurs largely due to ion bombardment of the material surfaces. Thus, the problem requires an understanding of not only the complexities of the ionized gas that persist in these thrusters but also of the close coupling that exists between the gas and the thruster materials. Second, since the service life of EP has been customarily demonstrated through life tests in vacuum facilities, both the cost and time associated with such tests are expected to rise. Whereas some cost-capped NASA missions may be able to absorb these costs, launch window opportunities and mission timelines may simply rule out a multi-year life test. It is therefore becoming increasingly apparent that some combination of analysis and test must be adopted in the life qualification process of EP. Inevitably, computational modeling of EP has been receiving increasing attention at NASA.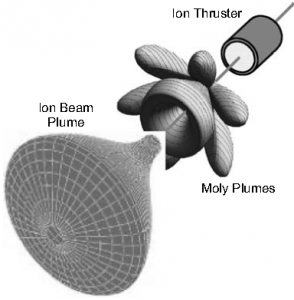 Considering all potentially life-limiting mechanisms in Ion and Hall thrusters two are of primary concern: (a) the erosion of the acceleration channel in Hall thrusters and, (b) the erosion of the hollow cathode, a component that is necessary for the operation of both types of thrusters. The physical processes leading to material wear in these devices are uniquely challenging. In this presentation the driving plasma physics will be elucidated based on insight gained from advanced numerical simulations at the Jet Propulsion Laboratory (JPL). Recent breakthroughs on erosion mitigation will also be presented, which, after more than three decades
About the Speaker
Dr. Mikellides received his doctoral degree in Aeronautical and Astronautical Engineering in 1999 from the Ohio State University with concentration in plasma propulsion and computational magnetohydrodynamics. Since 1992 he has been performing numerical simulations of ionized gases that have spanned a broad range of temporal and spatial scales, in problems such as plasma processes within a GW-level, high-pressure (>1000 atm) discharge chamber and hypersonic nozzles, ablative thrusters, fusion-powered subsonic/supersonic plasma flows through magnetic nozzles, rarefied EP plumes and, more recently, X-ray-radiating astrophysical plasmas. Since joining the EP group at JPL in 2004, Yiangos has developed the first comprehensive 2-D computational model of the partially-ionized gas in hollow cathodes and the first 2-D model of Hall thrusters with a computational mesh that is closely aligned with the applied magnetic field. Yiangos is an Associate Fellow of the AIAA and has been the recipient of multiple awards for his computational work in EP including the NASA Exceptional Engineering Achievement Medal and the Lew Allen Award for Excellence in Scientific Research. He is a Sr. Engineer at JPL with joint appointments in the Engineering and Science Divisions. He has authored/co-authored over twenty-five peer-
Date:
Wednesday, March 21, 2012
Location:
Vitesse Semiconductor Corp., 741 Calle Plano, Camarillo, CA 93012
Agenda:
6:30 p.m. Pizza & Networking; 7:00 p.m. Meeting & Presentation