Website Content
Website Content
Section Sites
Buenaventura Section maintains a number of websites:
Other Society chapters have website alias, eg, http://pes.ieee-bv.org/, that point to the main site, http://www.ieee-bv.org/
Posting Online
Authors need accounts on the sites in order to write postings. Request an account from thewebmaster. The webmaster also has details about logging on and editing posts. See below under "Writing for Our Websites".
Posting via Email
Authors with accounts may send articles to the main website, http://www.ieee-bv.org/, via email.  For security reasons, Authors must
send only plain, ASCII text email
send email from an email address that matches their website login's email.
Please refer to the picture at below right (click on it to enlarge) for instructions about how to post via email. This example shows Microsoft Outlook; however, most email tools and webmail services (GMail) have ways to send plain text.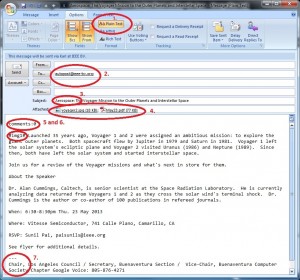 Set the mail message's format to plain text (no HTML).
Address the message to 'autopost@ieee-bv.org'.
Put the title of the post in the Subject, optionally starting the Subject line with a valid Category followed by a colon.
Add attachments. The order of the attachments matters. Put pictures FIRST and documents LAST.
Disable comments on the post, otherwise, spammers may start putting bogus comments which will show up in your mailbox.
Write the post in plain text. Use blank lines to separate paragraphs. Optionally, place images in the post. The order of the #img%# matters. #img1# is the first attached image, #img2# the second, and so on.
Anything after the two or three hyphens at the bottom of the message is assumed to be a .signature line; the website ignores it and this information does not appear online.
Email the post. The website checks for new messages and posts them within 5-10 minutes (see post from example above).
Posts sent by email can be changed or updated at any time. Log onto the website and edit them. DO NOT resend posts by email. Resent posts create duplicates.
Categories
Categories are specific keywords that organize posts.  All posts filed under a particular Category can be found by clicking the Category's name on the website (see under the middle column "CATEGORIES" – this is also a list of Category names). When posting to the websites, be sure to assign the post to one or more Categories.
Each Society chapter has a matching category.  These are
"Aerospace"
"ComSoc"
"Computer"
"EDCAS"
"Electro-Magnetic Compatibility"
"Industry Applications"
"LMAG"
"MTTS"
"PES"
"Photonics"
"Product Safety Engineering"
"Robotics"
"All Technical Societies"
When emailing posts, categories are case-insensitive, that is, "Computer", "computer", "COMPUTER" all refer to the same category. The system also attempts to match fragments of Categories, eg, "lm" matches "LMAG".
Posts may have more one Category. When emailing posts (above) put multiple Categories in the Subject line. Use square brackets to create a list, one category per bracket, and omit the colon. Example:
Subject: [Computer][robotics][aerospace]UAV Vision Systems
This posting will appear under the "Computer", "Robotics", and "Aerospace" categories.
For a complete list of categories on the site, authors should log onto their accounts and review available Categories (See under "Posts" > "Categories" under the WordPress Dashboard).
Writing for Our Websites
IEEE Officers and Volunteers are encouraged to put articles and announcements on the Section and Chapter websites.  The websites require a user account.  Contact webmaster (at) ieee-bv.org to set up a web authoring account.
The websites use the WordPress blogging/publishing platform.  WordPress has a simple editor that makes it possible to write items and add pictures, attach documents, and so forth.
Authors: please remember that items written for the web should be brief and to the point. Short sentences and two- to three-sentence paragraphs are best. Large blocks of text are hard to read online. As Shakespeare said, "Brevity is the soul of wit."
---